Littlepoint Wharf
Tim Steven's minimum space dockside layout

The inspiration for Littlepoint Wharf comes from the delightful little industrial layouts built by John Allison and others, who have proved that you can create workable layouts in very small spaces.

The dimensions of Littlepoint Wharf (1170mm by 350mm) are dictated by the need to fit onto the dining room sideboard. The challenge was to design for interesting operation in such a restricted length. The rear track is independent of the others and is the passenger line, with a small halt. A two-way sector plate serves the next two tracks (one of which splits into two sidings). A quayside track runs along the front of the layout. In the right-hand corner is a "dummy" point; it's a dummy because you can't actually run trains over it! The tracks are assumed to continue into a warehouse. This and other scenic tricks are designed to fool the eye into thinking the layout is bigger than it really is.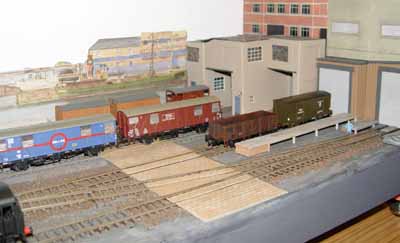 Trains are necessarily short; a diesel loco and ferrywagon is about as much as you can get on the sector plate. I am standardising on Kadee couplers throughout; you can't beat them! A couple of strategically placed uncoupling magnets enable realistic shunting without the "great hand from the sky" spoiling the view.

To demonstrate what's available in British HO, I want to run as wide a variety of stock as possible. To accommodate the differing wheel standards, I've used Peco Code 100 for the rear tracks and Tillig Elite Code 83 at the front. Vehicles with coarse wheels are confined to the rear tracks.

Littlepoint Wharf can be operated in either "historic" (1960s) or "modern" (present-day) mode. Locomotives include a Fleischmann Warship, a Hornby E1 0-6-0 tank (converted from an OO Terrier), a Dapol industrial 0-4-0 tank (converted from an OO Pug) and several Roco diesel shunters. The massive Blue Tiger euro-diesel also makes an appearance; it stretches a quarter the length of the layout! The Roco and Liliput continental ferry wagons are just the job for a dockside layout like this. The passenger service is operated using a Fleischmann SR Bulleid coach.

Typical dockside warehouses, sheds and loading platforms create a scene that could be anywhere in Britain, or indeed overseas, depending on the stock used. That's the beauty of HO scale, it's truly international!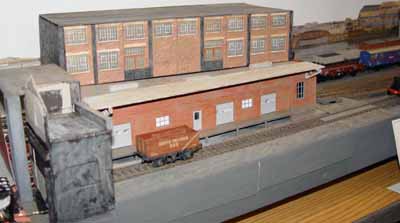 Littlepoint Wharf is at Eurotrack Eastleigh (28/29 February 2004) and Expo 1:87 Woodmansterne (20 March 2004), and will hopefully appear at other exhibitions in the next few years. Bring your stock to run on the layout, and help fly the flag for British HO.
[Littlepoint Wharf was retired in 2006.]


---