Hemswell
John Allison's exhibition layout with an RAF theme
The fictitious history is that the Great Central wanted to provide an alternative route to Lincoln from Kirton in Lindsey, serving the long line of villages clustered at the foot of the Lincolnshire escarpment. There are 15 of them. They got as far as Hemswell when the Great War broke out. End of story, except that the reopening of Hemswell airfield in 1937 brought new life to the unfinished branch. In the 60s steam was on the way out, and the small engine shed became redundant, and was taken over and fenced off by the RAF.
The baseboard is my now standard 3/8" balsa for top surface and side members, supported by crosspieces of 1/2" square balsa, inset into the side members. Further 1/2" square crosspieces add strength to the bottom of the side members. All surfaces receive two coats of sanding sealer, followed by two coats of clear varnish. The front fascia is gloss painted mid-green. There are two baseboards, each 4' x 15" (122 x 38cms), held together by drawbolt catches from Squires.
Reference to the track diagram shows that a reversal is required to reach the platform and the goods yard. This adds interest to the operating. I got the idea from happy memories of Woodhall Junction, where trains reversed to take the Horncastle branch, and again when rejoining the main Lincoln-Boston line.
(This description continues in full in issue 39 of Satellite 1:87.)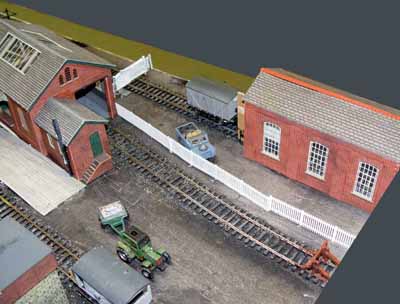 ---