Horton
Brian Pattenden's exhibition layout

Horton is the classic fiddleyard to terminus with a double track mainline leading to a three-platform station with a small goods yard. There are three 4' x 2' scenic boards with a 1' extension at the left hand end (from the viewing side) to accommodate the station building and approach road. The fiddleyard is 6' long with a 4' sliding section and short holding roads. The reason for the seeming cramped concentration of points in a very small area is that there were originally only two scenic boards. An additional board was subsequently added to increase the mainline run from fiddleyard exit to station throat. For simplicity it also means that most points are on a single board.
Trackwork is Peco code 75 with large radius points operated with the tried-and-tested wire in tube method. The main running lines were set at the correct scale spacing by cutting back the crossover at the single slip. The station building is an adaptation of a "Superquick" kit that has been reduced in height, building up of ground level to eliminate steps and reducing the height of the clock tower and cupola. The goods shed has a similar provenance whilst the signal cabin is modified Hornby. Most other structures are scratch built with extensive use of balsa and art-board. Scenery is largely conventional and despite the use of adapted 4mm buildings the overall feel of the layout is H0.
At the station end the shops behind the station are thriving businesses with displays in the windows. The departure platforms have an awning about 11 inches long (two Ratio 511, which are near H0 scale). Four illuminated street lamps outside. Front gardens along the street in front, and a red post box.
Rolling stock includes the usual HO suspects from Lima, Fleischmann, Electrotren and Roco.
Below: A view of 'Horton' in an early stage of development.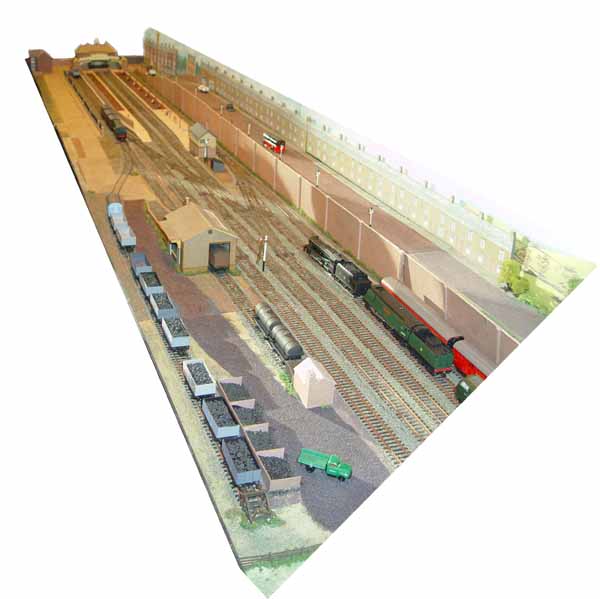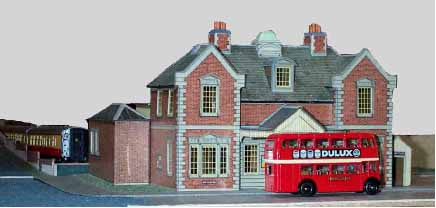 ---